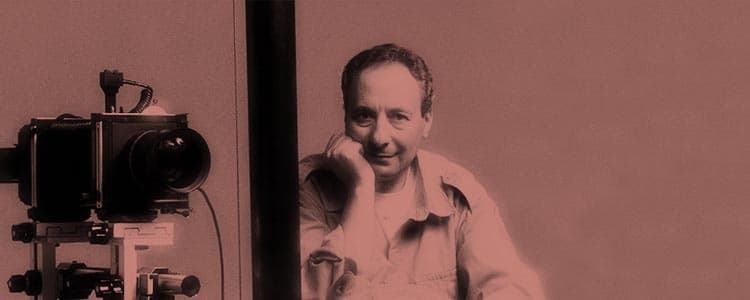 Aurelio Amendola
Aurelio Amendola was born in Pistoia. During his long career as photographer he could develop a special sensitiveness for sculpture; he wrote many essays about the works of Jacopo Della Quercia, Michelangelo and Donatello, and he explained singles masterpieces such as the Pistoia Pulpit by Giovanni Pisano, the Robbian frieze you can fins in the Ceppo Hospital in Pistoia, Santa Maria della Spina and Baptistery in Pisa, San Pietro in Vatican.
He cooperates with many reviews such as AD, Il Giornale dell' arte, Espresso, FMR. His last work, the first of series dedicated to the great themes of Italian art examined on the basis of his personal point of view, presents a brand new iconographical campaign, based on the tone and the specific exigencies of the project: taking advantage from the rare occasion of a free contact with Berninian monuments, and in a general sense, with the various architectural and sculptural elements that characterise the cathedral, symbol of the whole Christendom, Amendola succeeds in catching its foreshortenings and its more unexpected details.
In 1994 his essay "Un occhio su Michelangelo" dedicated to the recently restored Medicean Chapel in San Lorenzo – Florence he won the prize "Premio Oscar Goldoni". In 1995 an exhibition on this same theme was organised in Milan at Palazzo Reale by municipal administration. In 1997 the honorary prize "Cino da Pistoia" was bestowed to him.
Contemporary art is the other pole of great interest for Aurelio, who, during the years, has been collecting a real portrait gallery including the most famous master of the XXth century such as Magdalena Abakanowicz, Carla Accardi, Pietro Annigoni, Roberto Barni, Bizhan Bassiri, Miguel Berrocal, Domenico Bianchi, Manfred Bischoff, Alberto Burri, Umberto Buscioni, Dani Caravan, Arturo Carmassi, Mario Ceroli, César, Primo Conti, Giorgio De Chirico, Nicola De Maria, Piero Dorazio, Gianni Dova, Errò, Diego Esposito, Roberto Fallani, Jean-Robert Ipousteguy, Jannis Kounellis, Wilfredo Lam, Roy Lichtestein, Enrico Mainolfi, Giacomo Manzù, Marino Marini, Titina Maselli, Eliseo' Mattiacci, Vedovamazzei, Igor Mitoraj,Henry Moore, Hidetochi Nagasawa, Nunzio, Luigi Ontani, Mimmo Paladino, Laura Panno, Claudio Parmigiani, Alicia enalba, Beverly Pepper, Amaldo Pomodoro, Philip Rantzer, Antonio Recalcati, Gianni Ruffi, Mario Schifano, Antoni Tàpies, Ivan Theimer, Joe Tilson, Carla Tolomeo, Cordelia von den Stein, Andy Warhol, Gilberto Zorio.