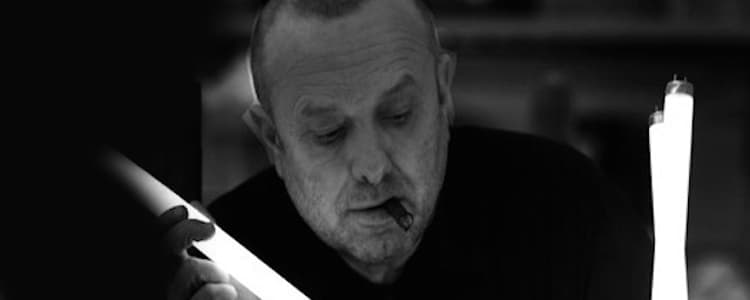 Denis Santachiara
Irregular designer and outsider in the International landscape. He starts with woks between art and design exhibited in various events, among which: the biennial exhibition in 1980, "Tutte le arti tendono alla Performances". Palazzo dei diamanti Ferrara 1982, Documenta 8 Kassel – the Milan triennial 1982 / 84 / 86 / 96 / 2001 / 2004 - Pac Milan 1999 the quadrennial exhibition in Rome 1998, the biennial exhibition in Valencia 2005
Personal exhibitions – editor – preparation, among which:
personal exhibition at museum Des Art in Lyon and at Vitra Museum. "La Neomerce, il design dell'invenzione e dell'estasi artificiale" 1984, the Milan triennial, Pompidou centre in Paris, exhibition manifesto and International reference for a "performatory", techno poetic and ironic neodesign. "I segni dell'Habitat" - Grand Palais, Paris 1987 - Berlaghe Museum, Amsterdam 1988 - Tokyo, 1989 in 1997 he realised the exhibition "the New Persona", edited by (Germano Celant,) Florence and in April 2000. "Stanze e Segreti", Rotonda della Besana, Milano, (edited by Achille Bonito Oliva). Installation at the biennial exhibition of Valencia "Water Design" 2003 and Open Living 2004 during Design Week, Tokyo. Opening of COSMIT Moscow in 2005.
Permanent collection in various museums, among which:
Moma in New York, Musee des Arts Decoratifs - Louvre, National Museum of Modern Art in Tokyo, museum in Lyon, museum in Frankfurt, Vitra Museum in Weil-am-Rhein Germany and Philadelphia Museum, Collection de Design du Centre Pompidou. Museo of design, the Milan triennial.
Interior and outdoor project among which:
charter house in Avignon, for the French ministry of culture, furniture for Toyama square, japan, Art Hotel in Dresden; he wins the prize ZIP for Saarbrucken, Germany, Banca Generali for a telecom-banks chain. The biennial architecture exhibition in Beijing.
Prizes and publications among which:
in 2002 the publishing house "Abitare Segesta" published a book about his work with text by Virginio Briatore for the handbook collection. Golden compass 1986. in 1999 awarded with Good Design Award by Chicago Athenaeum Museum of Architecture and Design and in April 2000 awarded in two section with Design World Visiting professor e lecture.