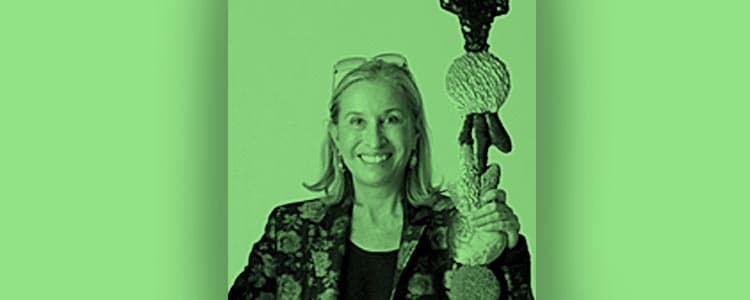 Carla Tolomeo
She was born in Piemonte, but her school training is roman. Only after she graduated she decided to follow her artist vocation. In fact during her youth she started painting under the guide of De Chirico, who was her master and left her an indelible stamp. Her painting is learned, refined and rich of mentions. In 1970 her first presence at the Lugano International exhibition. Her last painting exhibition dates to 1997, London, at the prestigious Leicester's Galleries. Tolomeo has a great success but she wants to compare with new and different art situations.
She starts designing and realising the first chair-sculptures: invited in 1998 by Neiman Marcus her chairs are protagonist in New York and Dallas of the Festa of Italy, in 1999 she is invited to the museum of contemporary art in Rieka, then in Zagabria, Dresden, Rotterdam; Blumarine wants a Rose Chair in each boutique in the world, from Beijing to Honolulu, Missoni opens her his archives living her the most extraordinary textiles for the realisation of some pieces that will be exhibited in the greatest exhibition in italy as Lorenzo Cappellini wanted.
The most important Italian and foreign magazines give space to her works, always new, always different. In Germany she is considered innovative designer artist. In Paris Hermès wants her for the Christmas 2000-2001 event in the historical windows in Faubourg Saint Honorè. In 2003 the hotel Meurice asks her to prepare some installations for its halls in Rue Rivoli, the artist works a winter long in Paris, the following year she is in Miami, with 18 sculptures at SenzaTempo, and chairs are sought after by art collector and New York design. In 2004 she is invited in Moscow and opens her first exhibition in Russia at Puskin museum, after saint Petersburg and Kazakhstan. In italy too art galleries are interested in her, in 1997 Giorgio Vecchiato exhibits in his galleries, after Studio Guastalla in 1999 and Stefano Contini in 2002, from 2005 Tornabuoni Arte for italy and I MIRABILI for abroad. Starting from 2003 she works in Pietrasanta and her marble sculptures are exhibited in Forte dei Marmi, Florence, Milan, Venice, Portofino, Crans sur Sière. She also present with her works in great contemporary art shows: Fiac in Paris, Art Basel in Miami, Arte Fiera in Bologna, Miart in Milan.
Her work is mentioned in the logical catalogue published in 2004 "Mai sedersi sugli allori" in 2006 from the book – I Barocchi – published by Idea Books, in 2007 "Mai sedersi sugli allori" MIRABILI Galleria edition. In 2007 Milan will dedicate to her a great show at Villa Reale, museum of modern art.